About the Conference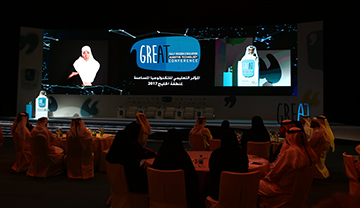 For the second year in a row, the Mada Assistive Technology Center is organizing the Gulf Region Education Assistive Technology (GREAT) conference between April 23 and 25 in Doha, Qatar. As a first of its kind conference, GREAT will focus on four main domains related to Inclusive Computer Technology (ICT) and Assistive Technology (AT):
Education
Independent Living
E-Accessibility
Innovation
The conference will also host a dedicated stream on Autism, organized in conjunction with the Qatari Autism Society.
Organized in partnership with several local, regional and international partners, GREAT 2018 will feature subject matter experts from around the world who will use this platform to educate and exchange information on best practices and current trends in the field technology and accessibility.
The conference will host a number of a number of inspirational speakers, workshops, an interactive exhibition, and innovation theater over the course three days.
Who should attend GREAT?
The aim of GREAT is to provide a knowledge-share forum by bringing together experts, end users, front line workers, innovators and vendors to promote initiative technologies, best practices, implementation strategies, research and education in AT and accessibility. This conference will be useful for:
Mainstream Education Teachers
Special Education teachers
School Administrators
Speech Therapists
Occupational Therapists
Physical Therapists
Parents of children with special needs
Providers of AT products
Medical Professionals who work with PWDs
Academicians in Higher Education in AT
Policy Makers
Digital content creators
Web designers and developers
Technology professionals
Innovators
Managers of accessibility to public spaces